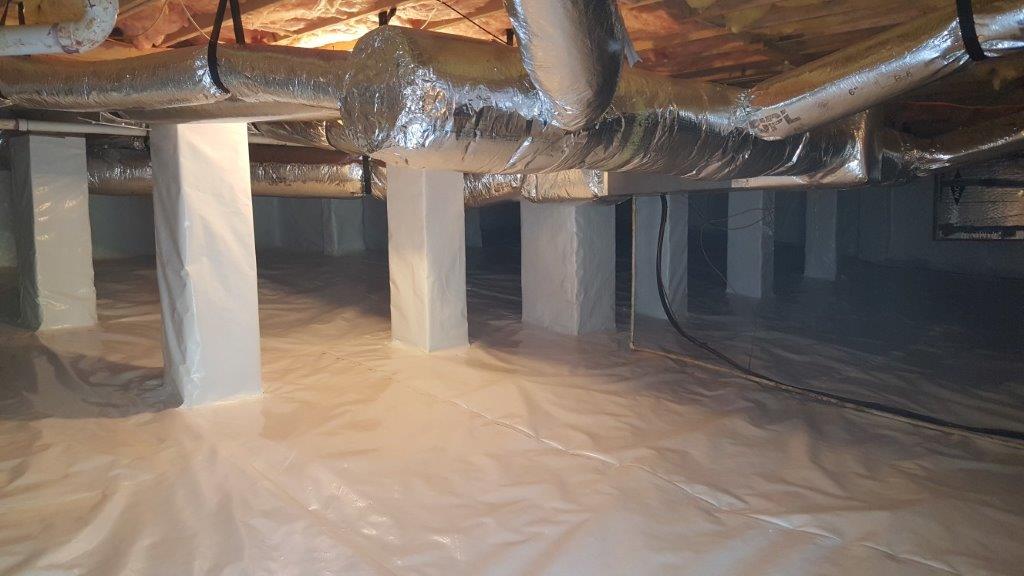 Crawlspace Encapsulation Services
Water always seems able to find its way into any space. If there is a crack, a hole, or an unsealed area water will eventually find its way in. Crawl space encapsulation ensures that water does not continue to seep into the area underneath your home.
Crawlspace Encapsulation Services in North Georgia and Chattanooga, Tennessee
A dirt crawl space is frequently saturated with moisture and most older homes in the Chattanooga area were build on dirt crawls spaces. To help eliminate moisture from the crawl space and seal it off from harmful conditions, DryTec recommends using a Crawl Space Encapsulation system. Encapsulation helps your crawl space look and feel just like the rest of your home.
Crawl Space Encapsulation uses a liner that creates a seal and creates a vapor barrier to protect from the negative effects of moisture getting into your crawl space.   Any moisture in your crawl spaces can quickly become a mess – wood rot, pooling water, uneven floors, foul odors, and mold are just a few examples of the problems that can affect an untreated crawl space.
A member of our team will come to your house, inspect your crawl space, and identify the areas where water may be entering. Once the sealing is complete, we will install a water vapor barrier along the floor of the space as well as the walls and sometimes below the sub-flooring of your home. After that, our team will install a dehumidifier to help control the moisture level in the area. If you are in need of crawl space encapsulation or want to learn more, call us today. We would love to work with you to protect your home from water and moisture related issues. To find out more about how DryTec can help you, or to schedule a free estimate, call us today.  (706) 978 6038  CLICK TO CALL